Episodes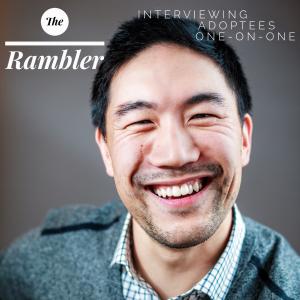 Sunday Sep 17, 2017
Sunday Sep 17, 2017
Adam Goodman is a Korean adoptee who grew up in Westchester, NY along side his younger brother (also adopted and biologically related).  He's now living in North Jersey with his girlfriend.  In addition to his day job as a business analyst, he and a group of like-minded friends have launched an online publication, Plan A Magazine, that seeks to carve out a uniquely Asian American progressive voice.  You can find it at PlanAMag.com, on Twitter @PlanAMag, and on Facebook.  
Follow me on Twitter @TheRamblerADHD, email me at TheRamblerADHD@gmail.com, and like/share me on Facebook at Facebook.com/TheRamblerADHD.  If you like the podcast, please be so kind as to leave a nice review on iTunes.  Thanks for listening!
Songs from A Collective Effort are available at SoundCloud (Http://soundcloud.com/acollectiveeffortmusic/sets/a-collective-effort-mix-bag) and other music of the podcast comes courtesy of Needle Drop Records by The Bell.