Episodes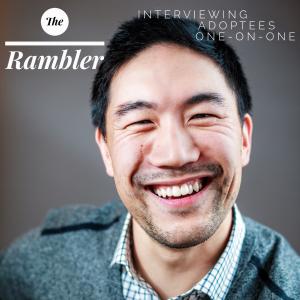 Sunday Oct 16, 2016
Sunday Oct 16, 2016
Sophie Samdperil is a Chinese American Adoptee from Nanjing China.  She was raised in Brookline, MA and is currently attending Bates College in Maine, studying Sociology.  Please feel free to contact her via email and facebook! Emaik: ssamdper@bates.edu
Emily Kessel was last week's guest, but she's come back on to give a quick update on the Adoptee Rights Campaign and how you can help!  Check out the ARC at adopteerightscampaign.org to find out more information!
Songs from A Collective Effort are available at SoundCloud (Http://soundcloud.com/acollectiveeffortmusic/sets/a-collective-effort-mix-bag) and other music of the podcast comes courtesy of Needle Drop Records by The Bell.  "Bulletproof Love" comes off of the Luke Cage Original Soundtrack Album by Adrian Young & Ali Shaheed Muhammad featuring Method Man from MARVEL and ABC Studios.  
Follow me on Twitter @TheRamblerADHD, email me at TheRamblerADHD@gmail.com, and like/share me on Facebook at Facebook.com/TheRamblerADHD.  If you like the podcast, please be so kind as to leave a nice review on iTunes.  Thanks for listening!