Episodes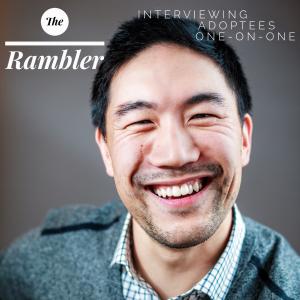 Monday Sep 26, 2016
Monday Sep 26, 2016
Linda Rogers was adopted from Korea when she was 2 1/2 years old, and she has lived in Minnesota since then.  A little over 3 years ago she made contact with her biological family, and continue to have a relationship with them.  Linda is a mother of three, and enjoys spending time with family and friends.  You can find her on Facebook.
Songs from A Collective Effort are available at SoundCloud (Http://soundcloud.com/acollectiveeffortmusic/sets/a-collective-effort-mix-bag) and other music of the podcast comes courtesy of Needle Drop Records by The Bell.
Follow me on Twitter @TheRamblerADHD, email me at TheRamblerADHD@gmail.com, and like/share me on Facebook at Facebook.com/TheRamblerADHD.  If you like the podcast, please be so kind as to leave a nice review on iTunes.  Thanks for listening!