Episodes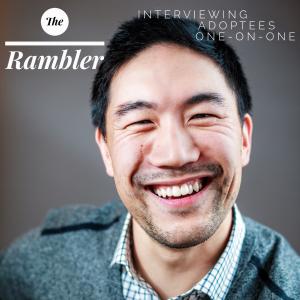 Sunday Aug 21, 2016
Sunday Aug 21, 2016
Jonathan LeBrecque is currently living in Washington, DC and working for the government in international development within the area of HIV/AIDS.  He grew up in Springfield, MA, with three siblings:  an older sister and two younger brothers.  Jon went to college in Providence, RI and studying abroad for a year in England before going to graduate school in Boston.  He has become more active in adoptee circles after having moved to Boston and now DC.  He just attended the IKAA Gathering 2016 in Korea!  You can find him on LinkedIn, Facebook (facebook.com/kantanan25).  
You can ALSO check out China's Children International's Interview with ME from this past week on YouTube (https://www.youtube.com/watch?v=FxM1WUF_m9c)!  I was honored to be asked to chat with them and share a little of my story; so if you're interested in that, be sure to check it out.
Songs from A Collective Effort are available at SoundCloud (Http://soundcloud.com/acollectiveeffortmusic/sets/a-collective-effort-mix-bag) and other music of the podcast comes courtesy of Needle Drop Records by The Bell, John Williams, and Muse at Warner Music UK.
Follow me on Twitter @TheRamblerADHD, email me at TheRamblerADHD@gmail.com, and like/share me on Facebook at Facebook.com/TheRamblerADHD.  If you like the podcast, please be so kind as to leave a nice review on iTunes.  Thanks for listening!